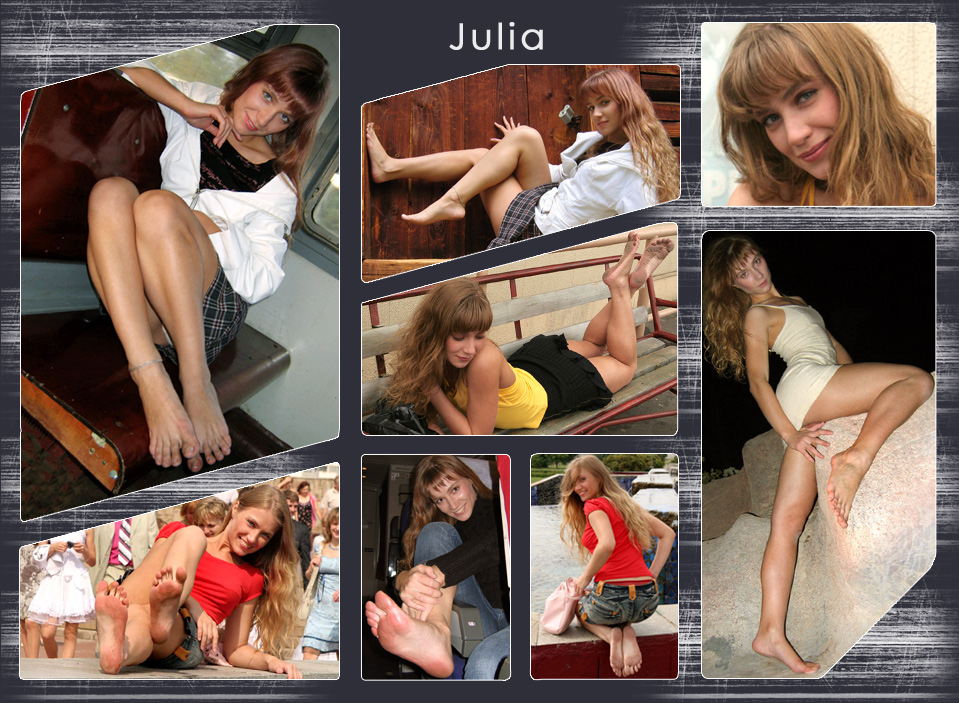 comments for the model
Aristocrat
2015-01-22 05:45:40
Lovely Juliya. I like you. I am a perfumer and if I can contact you. I will make the most expensive perfume and you'll be the only girl wearing it all over the world. It will be only for you!
torno
2017-05-31 13:47:01
No doubts one of the best models on this website.
Related updates
Pretty lady. Part 4.

At least, Julia de3cided to go home. She lived in another town. So our barefoot girl went to the railway station to get to a train. Her dirty bare heels were seen clearly in the crowd. The passers-by looked at her with interest. Julia waited for the train in a cafe and soon her train arrived. THe photographer made wonderful shots of the girl's dirty soles in the cafe and in the train.

2009-11-12 20:43:26
Pretty lady. Part 3.

Julia is going on with breathtaking barefoot walk along the Moscow street. From time to tine she stops for a while to show her sexy feet and soles in different ways. The photographer takes wonderful close-ups of the girl's dirty soles. Enjoy also a video-clip of Julia's pretty feet!

2009-10-29 12:04:31
Pretty lady. Part 2.

Pretty Julia continued her walk. She went to the metro. The passengers looked at her with interest and astonishment. It is not a common thing in our metro to find a girl, who walk without shoes. Julia showed her feet and soles in different ways to the camera and to the people around.

2009-10-14 21:37:46
Pretty lady. Part 1.

julia is always eager to have a barefoot walk. Especially on a hot summer day. Her feet are very pretty and sexy. So Julia willingly shows them to the passers-by. Her soles soon turng dark with dirt and become more breathtaking. Enjoy also excellent video-clip!

2009-09-30 22:23:28
Sexy feet in the crowded city. Part 4

Very sexy young Jul shows her naked tough feet. She poses, sitting near the cities' fountain. Her stunning naked feet are covered with loads of dust and dirt from all over the city. Jul seems to be very pleased with her barefoot lifestyle and does a fantastic footshow in front of our camera. After the walk round the city Jul comes back home and lays on the bed showing her dirty naked feet.

2007-10-16 21:12:09
Sexy feet in the crowded city. Part 3

It was a really windy and cold day when Jul decided to have a pleasant walk round the cities' center, wearing no shows. Her naked strong feet touch rough and dirty ground and stairs. Gorgeous Jul with amazingly beautiful blond hair sits near the fountain, showing her naked feet covered with dust. She has a great time while walking round the city barefoot.

2007-10-10 21:13:02
Sexy feet in the crowded city. Part 2

Fine-looking Julia just left her shoes in the shoe shop to have them fixed. So, she leaves the store barefoot and walks home across the city. Julia seems to enjoy barefoot lifestyle. Her tough naked feet step on to the wet dirty asphalt and she seems to like it a lot. Julia poses for the camera, shows her beautiful strong naked feet all dusty.

2007-09-24 18:38:25
Sexy feet in the crowded city. Part 1.

Very sexy young Julia leaves her house for walk. She has no shows on, Julia prefers walking barefoot so she could be more connected to the soil and feel every single part of it with her naked feet. Her feet are covered with dust and she stops from time to time to show her feet to us. Julia goes to the market place to get some fruits with no shoes. She looks satisfied and glad, she is in a great mood.

2007-09-18 08:46:35
Barefoot shopping. Part 4.

After a tiresome barefoot ahoping Julia found a bench outside the trade center. she rested on it and gave a rest to her feet. The soles became dark with dust and Julia showed her dirty soles to our camera. The photographer took a chance to make excellent close-up pics immediately. Afret the short rest Julia was ready for the further trip and went along the path, stepping with her bare feet on the hard ground.

2006-03-28 19:27:20
Barefoot shopping. Part 3.

Julia went to the trade center without her shoes on. Her feet were already dusty. The cool marble floors of the trade center made Julia's feet calm after the sharp asphalt. People in the trade center looked at a barefoot girl with interest. Ant Julia answered their glances with a smile, showing off her pretty feet without any shyness.

2006-03-14 18:50:35
Egyptian barefoot adventures. The End.

The second part of the journey was as interesated as the first one. Our barefoot girls went on exploring Egyptian sight-seengs, bought souvenirs and jewellery sor their pretty feet. Their soles turned more and more dirty. And their skin - more sun-burnt. But little by little the vouage came to end and the girls arrived at the airport.
And in this part you can enjoy the video-clips to the second part of the voyage.

2006-02-28 21:08:41
Barefoot shopping. Part 2.

After leaving the metro, Julia went to the street. The asphalt was pleasantly warm and she felt even little warm pebbles with her bare soles. Soon her feet turned black with dirt and dust. The photographer managed to make excellent close-up pics of Julia's dusty soles.

2006-02-11 20:10:47
Egyptian barefoot adventures. Part 1.

Egyptian barefoot adventures. Part 1.


Day 1

We arrived to Egypt in the afternoon. We were looking forward to spending time under the worm sun, so we took off our shoes already in the Moscow airport. It was such a relaxing and wonderful feeling, to get rid of the narrow winter shoes! We started taking photos at once. Unfortunately, they did not let us take much photos there. Inside the plane it was forbidden, too, but we managed to take some pictures anyway. We couldn't help taking a close-up of our feet on the window glass, because there was such an interesting view! Later we noticed that a man behind us cleaned the window, grumbling: "Oh, those girls, they put their dirty feet on the clean glass, and now I can't see anything!"
Egypt met us with hot air, bright sun and wonderful sea! Right after we went through the passport control, we started taking photos again. All the Egyptians were looking at us with curiosity but said nothing. We walked around the hotel a bit, and then went to bed.


Day 2
Of course, we went to the restaurant barefoot and made many photos there. The waiter asked us not to come like this again, because there might be broken glass and we could hurt ourselves. We smiled and went on with our photos. There were so many different tasty things!!! That day we decided to go to the Old Market. When we saw some handmade bracelets, we decided to try them on. All the sellers started to shout: "Come here, try this!" and put the bracelets on our hands. But we said: "No, we don't need it for that. We want bracelets for out feet!" They were surprised so much, that soon there was a small crowd of Arabs, watching us wearing those bracelets on out feet. In the evening we went to a local place to smoke Shisha, a national Egyptian pipe. It was a truly romantic Arabian evening. Lying on low sofas, listening to national Egyptian music, drinking hot Karkade tea, looking at the stars and smoking Shisha, we really felt relaxed and happy.

Day 3
In the afternoon we went to Naama Bay, a modern quarter of Sharm El Sheikh. Everybody, really everybody was looking at us, pointed fingers at out feet and asked in a broken English or Russian: "Why This?" We laughed and gave various replies, like: "Well, we had to sell our last shoes to get money for thie trip", or "We are pilgrims, so we have to walk like this", or "We just like it this way!" After 10th question like this it got really funny, we already make jokes whether we would be asked about it again and where.
Needless to say, that first of all in the morning we went to the beach. We swam and sunbathed. The water was perfect, warm and clean, with a lot of fish of all kinds. It was wonderful to feel hot sand between our toes. Julia went into the water and hurt herself at once with corals…
We walked and surprised people everywhere: in an onyx shop, in a textile shop, in a supermarket…Some Egyptians asked us whether we could make a photo with them. A person selling belly dance dresses was so stunned that asked us to try some of the dresses on. We gladly did it, and were amazed how beautiful they were! When we tried to make pictures near a beautiful fish plate at a fish restaurant, two waiters jumped to us and started posing together with us, holding giant lobsters and crabs in their hands. Then they gave us to hold them, too. An interesting thing: in the trade center there were hot floors! It was in the evening, so we could not understand whether the tiles have heating or they got warm in the sun during the day. But it was interesting for us to discover.

2006-01-31 21:32:56
Barefoot shopping. Part 1.

On a sunny summer day it is a real pleasure to have a walk without shoes. She left home, took off her shoes and went down to the metro. Julia's soles became black with dust and when she left the metro, the skin on her soles turned hard. But as it was really a hot day, nobody cast curious glances at the girl's bare feet.

2006-01-22 18:51:53
Mila and Julia in a small provincial town. The End.

An autumn voyage. Part 2.

The custodians of course didn't manage stop Mila and Julia from making photos, though they were not glad that our girls posed on the background of the churches. So the trip was going on...

Our girls saw not only beautiful church architecture, but also beautiful apple-trees, thick-sown with apples, cute flower-beds, and pretty houses in Danish and German style. But what really made the girls happy - was the horse, which was pasturing on the meadow and grazing until the naughty girls decided to make photos with it. First it was afraid of the unbidden guests, but soon it got used to the girls and wouldn't look aside from its meal.

After Mila and Julia had seen every corner, they went home, tired, but happy. On the railway station in Moscow our girls were met by their morning acquaintance - a red-haired cop, who smiled and greeted them.

In the metro the girls made photos of their tired soles, covered with corns and dirt. This time Mila and Julia managed to go to the metro unnoticed - nobody tried to stop them and ask to put their boots on. At eight o'clock in the evening the girls waved each other good-bye and went home. They were eager to have a look at the photos.


... We would like to share a secret with you... ;) Our girls (Mila and Alena) have just returned from their second trip. This time they made even more sexy and exciting photos and (that is our surprise for you) - they took a video camera with them!

So wait for the next Barefoot Voyages...

2005-10-20 19:06:16
Mila and Julia in a small provincial town. Part 1.

An autumn voyage. Part 1.

There were last warm days outdoors. Julia and Mila decided to take chance and to go to a quiet and beautiful place and to roam without shoes on the cool autumn grass, wet earth and old ruins.

The best place for their aims was a little provincial town - Novy Jerusalem, which is known by its masterpiece of architecture - NovoJerusalem cloister. This place is well known in Russia - it is a shooting area for films, married couples visit this place soon after the marriage and of course a large amount of faithful people go on pilgrimage here.

Mila and Julia met in the metro early in the morning, put off our shoes because in Russian metro the assistant station-masters don't want to let people to the metro stations without shoes. On the station the girl's feet became dirty at once. It was an ordinary working day, there were a lot of people in the metro, going to work. But only few stayed indifferent. Some people were astonished (it was rather cold and everybody was wearing warm jackets!), some people joked at the girls and one old woman asked Mila, whether my boots were stolen.

It is forbidden to make photos in the metro, and that is why our girls tried to photo carefully. But in spite of all the precautions, Mila and Julia drew the attention of the assistant station-masters, who told the girls, that they were disturbing the machinists with their flash gun.

At least the girls came to the Rizsky railway station. It was not easy to find the ticket windows. And while Mila and Julia were looking for them, they were stopped by the police twice. First time the cops asked the girls to show their documents and asked, why they were walking without boots.
- But it is so cool! - Mila answered. Put off your shoos and feel it yourself!
They smiled, but wouldn't take off their boots. The second time the cops only asked the girls, where were their shoes - and that all.

When the girls bought the tickets, they found out, that there was still half an hour before the train departure. That was quite enough to make some photos. The girls also bought some ice-cream and some food. While entering the train on the last seconds they began to make photos on the threshold of the train and heard the sharp voice from the loud-speaker: "Stop holding the doors! Do not detain the departure!"

On the girl's way a men was disturbing them, while they were making photos. He tried to advice our girls, how to photo in the best way. And the majority of the passengers paid much attention to the girl's bare dirty feet all the way long.

It is difficult to describe the reaction of the people in this provincial town. I think, they haven't seen such show at all. People pointed at the barefoot girls, some people offered Mila and Julia to take all their closes off. One woman told her friend, pointing at the girls, that barefoot walks make the organism strong and our girls were doing right.

Mila and Julia got to the cloister in a route taxi. On course all the way they were making photos with such a pleasure that nearly missed their stop.

By the way, there was no sun that day and sometimes it was raining. But while Mila and Julia were moving, they didn't even managed to be frozen.

The girls had just left the taxi and a man began to photo, how Mila was making photos of Julia. As for Mila, she managed to make a photo of him too. But he followed us for some time, until I explained to him, that we have different routes.

While the girls were walking along the enormous territory, posing on the background of different places of interest and monuments, the custodians told them trice, that their behavior is impossibly frivolous on the territory of such a Saint place...
If you want to know what was then, wait for the second part of our Barefoot Voyage...

2005-09-18 20:27:50
In public without shoes. Part 4.

That day was over. The two girls were tired to walk. their bare feet turned pink with cold. By the way, it is much simplier and more pleasant to walk on the snow rather then on the bare aspha;t. So to give some rest to their feet, the girls stepped on the snow. Their soles relaxed on the soft while cold surface and the photographer managed to make some excellent close-up shots and a fascinating video-clip!

2005-05-03 16:45:38
In public without shoes. Part 3.

The two girls enjoyed the week-end and their barefoot walk in the Kolomenskoe. Their feet became bright pink with cold show, but they fearlessly steped on the frosty asphalt and snowdrifts. People around looked at them with interest and asked the girls different questions about the reason of their barefoot lifestyle.. )
And one brave passer-by even decided to take a photo with Julia and Nastya for his photoalbum. Wanna see everything in details? - Enjoy a MEGA-update with 100 pics.

2005-04-23 11:50:28
In public without shoes. Part 2.

That day the air was frosty and the sky was overclouded, but the atmosphere of holiday was felt everywhere. While walking along the park, our barefoot girls came to the central square, whee people bought pastry and souvenirs. Julia saw a pretty bracelet bought it and then immediately put it on her sexy bare foot. The passers-by cast curious glances at the girls, walking without any shoes on such a frosty day

2005-03-21 19:44:04
In public without shoes

Last Sunday all the people went to the street to see russian winter off. People sang songs, eat pancakes and had good time. So our girls Went to see the winter off too. And they thought, that spring would come more quickly if they went there without any shoes. First it was a shock for them to spet with almost naked feet on the burning cold snow, but them their feet got used to coldness and they began to romp about the yard, challenging winter and frost and then went to the overcrouded park, where people had already began their revelry. You can see barefoot girls among cheering people on a high-resolution video-clip.

2005-03-15 21:45:13